Some people say, on my regular "BastiTours", always something mad is going to happen. And of course, for our latest trip to Paris, I organized some special treats to make sure, that our visit to the Disneyland Resort is a one-in-a-lifetime event – for a bargain price.
Besides the "regular" specialties like a Resort Hotel, live music or Burgers served by honeys on roller skates (some shots to that probably later) and the typical privileges as a Disney shareholder (I actually didn't use any of these except discounts) I managed to get our very own Disney VIP tour guide:
Thanks, Juliane. All of these little secrets and magical places you showed us were great. I didn't know a lot of it. And hey, I'm a shareholder. I paid this! (well, sort of).
But BastiTours wouldn't be BastiTours with some more surprises. We wanted to enjoy the famous Pirates of the Caribbean a little more. So I organized a stop at the very best scene for some more minutes:
I just took this one picture here, but the boat has stopped just for us. I just hope, the people in the boats lining up behind us weren't to annoyed by our special treatment: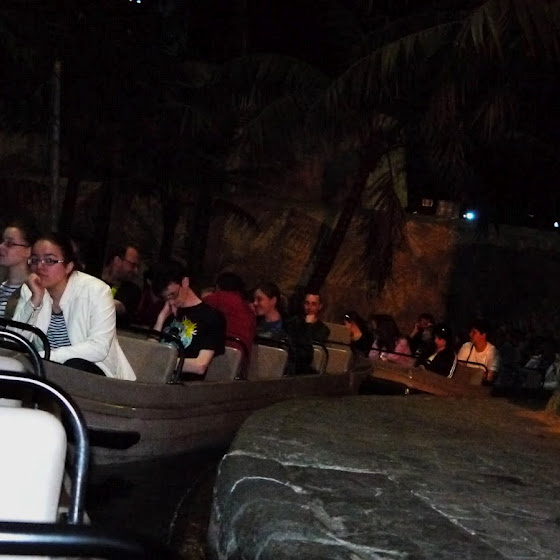 Then we asked to see stop in during the Crush Coaster ride. As I'm a fan of coasters, i'd love to see this dark ride with lights on. So they did it (close your eyes now if you don't want to break the magic):
Thanks! What an interesting layout. And we even got a small guided tour along the roller coaster track. Very interesting!
Then we said: We'd like to have aged Jamaican Rum shock frozen to ice with a little sugar and then lit on fire. What should I say: They did it:
(Clemens and myself were pretty done afterwards. They weren't short on Rum, that's for sure!). As a last special event, Verena asked, if they could set Sleeping Beauty's Castle on fire for her.
Well…
What an experience! (No worries, they started to build the Castle up again afterwards immediately and looks good already).
Sometimes, being a company shareholder is great.